Year 1
Year 1 Curriculum
Curriculum Map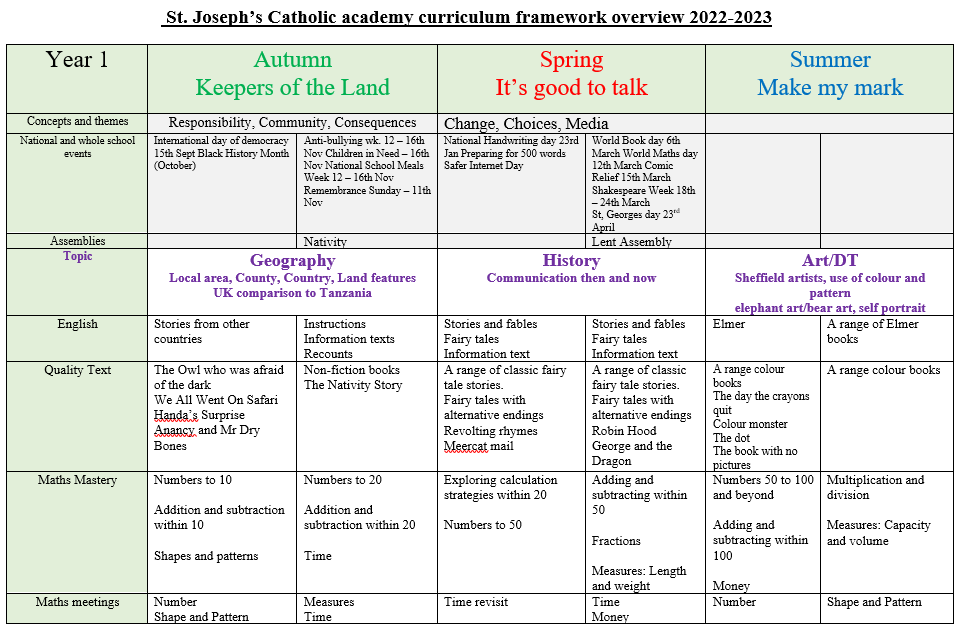 Autumn Term
This is our Geography Term. We become "Keepers of the Land". To be a keeper of the land we need to know about our own local area including the people and animals that live here. We experience a local walk, taking our clipboards and maps with us to locate local amenities in our local area Handsworth. We learn all about the UK and experience a tasting day, trying different cuisines from the UK's different regions. We celebrate diversity and discover our families' heritage which we share with each other. We "Jet off" to Tanzania with our "Passports" and land in a new Country. We compare land types and weather. We discover different ways people live and compare similarities and differences. We find out about the animals which live in Tanzania and compare them to the animals in our own Country. We celebrate the end of the topic with a "Dramatic Dance" Performance.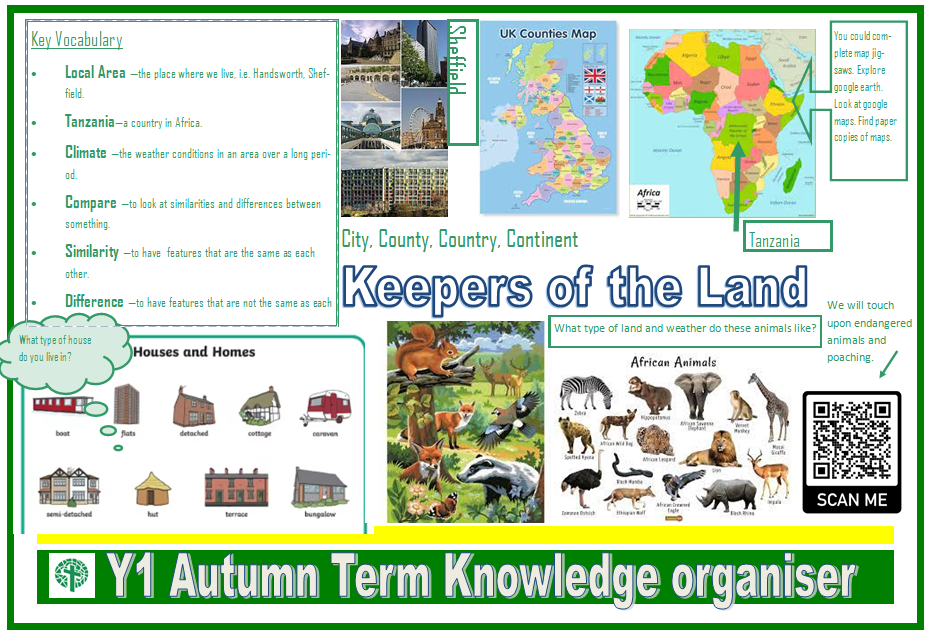 Spring Term
This is our History Term. We begin by grounding ourselves in the "Now". We consider life for us now and in our living memory. We explore different ways in which we communicate today and begin to ask questions to find out more. We wonder about the past and how it all started. We discover that the first people to communicate lived in caves and created cave paintings, some of which we can still see today! We begin to build up a sense of chronology using an interactive time line in our classroom. We discover that Egyptians invented paper. We use clues and information to find out that children and even animals have been used to send messages to each other in the past. We create our own version of a "Pigeon carrier". We find out about famous inventors such as William Caxton's printing press and Alexander Graham Bell's Morse code. We compare and look at artefacts of different types of telephones. We begin to wonder how technology will change again in the future. We celebrate the end of the topic with a trip to Western Park Museum and create our own Museum to share our discoveries with others.
Summer Term
This is our Art/DT Term. We do also touch upon Geography and History because our topic is based upon artwork originating in Sheffield! We read the story of Elmer and have a P4C style discussion about being unique. We read lots of other Elmer stories during this topic and do lots of creative writing too. We discover that there was a famous Elephant who once lived in Sheffield in 1916. We find out all about her and she becomes our inspiration for our Artwork- just like the Herd of Sheffield exhibition in 2016. We look at the colourful artwork of Bryan John who lives in Sheffield and we explore mixing colours. We look at different types of materials and explore different textures. We have lots of fun sketching elephants. We celebrate the end of our topic by creating our own mini Elephants using clay. We give them each a unique design and display them at our End of year Art show!