Year 4 Handball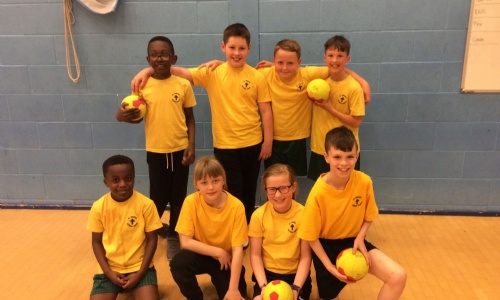 On Friday 27th April we took our amazing Year 4 Handball team who came 2nd in the Handsworth heats (George, Jacob, Jake, Lenny, Reuben and Wednesday) and welcomed the addition of two new members (Lleyton and Poppy).
The pressure was on as we battled in our first game and narrowly lost 2-1 to Shooters Grove. It was a difficult result to take and left us all feeling a little deflated. Next up, Hunters Bar... Cue the goal fest! A great attacking performance and a deserved 6-5 victory! With spirits high from our first win, we next had our personal grudge match against Handsworths heat's winners, Lowedges. It was soon apparent that winning was the only option with every player putting in a shift and getting their long awaited victory, 4-2! Our final game was Hunters Bar, where we kept taking the lead only for Hunters Bar to pull one back each time. A great game finishing 3-3.
As the scores were announced from reverse order, we eagerly awaited our name to be called. "In second place... St. Joseph's!"
A huge congratulations to our team from Mr Findler. They represented us so well and I couldn't be more proud! Every child was left loving a new and exciting sport. We go again next year!