Advent in Nursery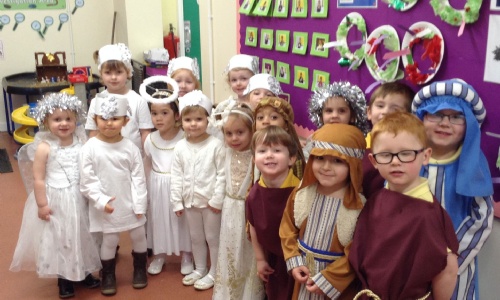 We have been extremely busy in Nursery getting ready for Christmas.
Over the past 4 weeks of Advent, the children have been having a great time preparing. They have used their artistic skills, creating cards and calendars, tree decorations and stickmen and have done some delicious christmas baking, especially the fantastically decorated gingerbread houses.
They have taken part in elf day where they all looked brilliant in their elf costumes. And told their families the story of Christmas in their brilliant rendition of Whoops a daisy angel, our Nativity for this year.
Today we had a visit from Father Christmas himself, who gave each of the children a present for being so good. He though the children were wonderful and enjoyed them singing Rudolf the red nose reindeer.
The children have really begun to understand the reason we celebrate at Christmas and that it is all underpinned by our faith and love of Jesus. They created a beautiful advent calendar, full of prayers and are excited to be getting closer to the big celebrations on Christmas Day.
From everyone in Nursery, we wish you all a very happy and holy Christmas.